Bleak City Commercial District is a location in the original Carmageddon. The player first encounters it at Rank 72.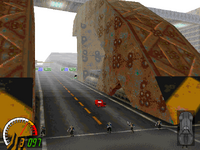 An inner-city area, this district is made up of streets and skyscrapers, signs and billboards. There are a few grassy areas, as well as dusty regions. A large freeway off-ramp runs through the centre of the area, allowing some good speeds to be reached.
Ad blocker interference detected!
Wikia is a free-to-use site that makes money from advertising. We have a modified experience for viewers using ad blockers

Wikia is not accessible if you've made further modifications. Remove the custom ad blocker rule(s) and the page will load as expected.