Carmageddon driver
Brothers Grimm
Stiffshifter
Info
Internal opponent number
12
Strength (1 - 5)
2
Network availability
Never

---

Short name

(?)

Grimm
Race number
5
Top speed
230 mph
Kerb weight
1.2 tons
0 - 60 mph in
4.2 seconds
Stealworthy

No

Description
"The funeral funsters will deliver you straight to hell in style with their nitrous snorting hot-rod hearse."
 




Top speed
225 KM/H (140 MPH)
Kerb weight
5.5 tons
0-100 KM/H
8.5 seconds
Cost
167,000 Credits
They were strongly suggested to return, as Stainless released concept art of the "new" Stiffshifter. Added to the game in Update 4 (16th July 2014), there's only one Grimm... the other one is hand-puppet. Nobby stated that the other Grimm died between games, and the puppet is a coping mechanism for the bereaved brother. The late Grimm is currently located in the back of the Stiffshifter...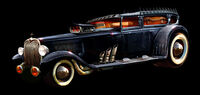 The Brothers Grimm were also a pair of writers who published fairy tales.
In the PlayStation version only one brother is shown, and he looks like Gene Simmons from KISS.
In the 'Max's Junkyard' levels of Carmageddon II, an office can be seen for "Bros. Grimm Life Insurance".
'Stiff' is a slang word for 'Corpse', so a 'Stiff Shifter' is a corpse mover (or as normal people call them, a Hearse).
Ad blocker interference detected!
Wikia is a free-to-use site that makes money from advertising. We have a modified experience for viewers using ad blockers

Wikia is not accessible if you've made further modifications. Remove the custom ad blocker rule(s) and the page will load as expected.