Carmageddon TV was a game that was meant to be released as a launch title on the Gizmondo handheld console. Its existence discovered through a copyright application, the game was to be published by SCi, and developed by Stainless (although one source says it was in development at Visual Science [confirmation needed]). Unfortunately, when the game was approximately 80-85% complete, it was cancelled due to the unpopular Gizmondo's demise.
In 2012, it was picked up and used in Carmageddon Funsize, seeing as it used a more up-to-date integration with their in-house engine. It required some tweaking though, because as the team found out, it was found to be largely untested.
The game was a port of the PC original, and a close one at that. The pre-release box art boasts that the graphics were in full 3D, and that the damage model and physics would remain intact. 25 racers would feature, and there would be 36 levels over five locations. The multiplayer mode was to have seven modes and three unique tracks. There were three save game slots. Interestingly, the demo was also a Blood version.
Only one piece of media was officially released besides the title and demo - Mark Knight was a Sound Designer at Visual Science, and he released a short teaser trailer at the end of 2008. The trailer does not show any gameplay, just the SCi games logo, and it cannot be confirmed if it was created during the game's development.
Leaked demo
Edit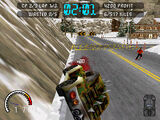 A pre-release demo was released to the press, and has subsequently been leaked to the Internet. This ROM can be tweaked to become functional on genuine Gizmondo hardware. By analysing the data within, one can see what was planned to be in the game. The demo can be downloaded here.
Opponents
Edit
These are the names of the opponents, inside the Data\opponentlist.txt file.
The names of the powerups, identified here as pickups, are found inside Data\Pickup.txt.
Unknown1
Unknown2
Unknown3
Random1
Random2
Random3
Random4
External links
Edit