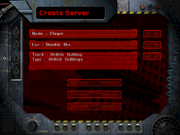 The create server screen in Carmageddon TDR 2000 allows the player to create a new multiplayer game using the selected port. The player must specify several options for the new game.
In this menu, the player can change his/her name and car. The player must also choose a level and multiplayer mode.
There are still further customizations, and can be found when the player presses the "Options" button, which leads him/her to the net game options screen.
Ad blocker interference detected!
Wikia is a free-to-use site that makes money from advertising. We have a modified experience for viewers using ad blockers

Wikia is not accessible if you've made further modifications. Remove the custom ad blocker rule(s) and the page will load as expected.