Carmageddon driver
Ed 101
Tashita Coupe
Info
Internal opponent number
27
Strength (1 - 5)
1
Network availability
All

---

Short name

(?)

Ed 101
Race number
10
Top speed
280 mph
Kerb weight
0.9 tons
0 - 60 mph in
4.2 seconds
Stealworthy

Yes

Description
"Ed blew a fuse and went psycho. The crazed android stole a prototype prized racing coupe in order to cause high-speed carnage."
Carmageddon II driver
Ed 101
Tashita2
Info
Internal opponent number
26
Strength (1 - 5)
2
Network availability
all

---

Short name
Ed101
Gender

♂

Race number
23
Status icon
Top speed
190 mph
Kerb weight
1.5 tons
0 - 60 mph in
3.9 seconds
Cost
170,000 credits
Description
"A fiercely fast and technologically advanced racing machine from the far east."
The Tashita will make a return in Carmageddon: Reincarnation.


The Tashita was added to the game in Update 3 on 18th June in it's grey box form. It was also missing the front blade weapon as it was having terrain collision problems which have yet to be resolved.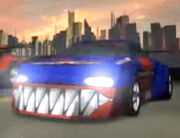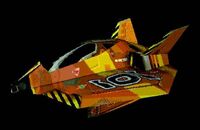 A robot with psychotic tendencies could be said to draw inspiration from the Terminator franchise, especially when one considers that Arnie's model number was T-101. A more noticeable comparison namewise would be with the ED-209 droid from action film RoboCop.
Driver's Ed (short for Driver's Education) is the name for driving lessons in the US, and 101 is a beginning-level or basic course number taught at colleges and universities.
A Tashita with a different paintjob (and driven by Batmad) features in the Carmageddon II intro FMV.
Ed 101 is not to be confused with De-d 209 from the PlayStation version.
Tashita Coupe is based primarily upon the racing spec Toyota Supra or Toyota MR2. It also contains elements of the Mazda RX-7 and Peugeot 205 Turbo 16. Both Toyota and Mazda are Japanese companies, which would explain the Japanese flag image on the bonnet.
Tashita 2 both shares identity of 1993 Toyota Supra and 1991 Nissan Skyline GT-R R32, which in its day was one of the most successful racing cars of its class.
Tashita from Reincarnation and Max Damage is Subaru BRZ or his other names is Toyota 86/GT86/FT86, Scion FR-S. Both Toyota and Subaru are Japanese companies.
The Tashita appeared in the intro of the Playstation version, but with a different paintjob.
The Official Carmageddon web site showed a very different vehicle for Ed 101 to drive in Carmageddon, which didn't make it into the final release: A Wipeout-style hover car. Its textures, however are hidden in the final release, inside Devil's Canyon Mining Town's files.
Ed bears a resemblence to Iron Maiden's mascot Eddie.
The original model of Tashita as seen on Carmageddon: Reincarnation