Carmageddon driver
Hammerhead
Project X
Info
Internal opponent number
13
Strength (1 - 5)
5
Network availability
Never

---

Short name

(?)

Hammer
Race number
6
Top speed
210 mph
Kerb weight
2.0 tons
0 - 60 mph in
6.6 seconds
Stealworthy

No

Description
"Hammy thinks he's a superhero, but actually he's just another nut. He drives his own twisted creation with demented zeal."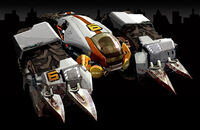 While not fully confirmed, Hammerhead is strongly suggested to return, as Stainless released concept art of Project X.
With the addition of the Blitzkrieger, vehicles with tank tracks are now supported. However, the Project X will be exclusive to Carmageddon: Max Damage.


Hammerhead's profile picture in the Splat Pack is animated (but unused), and it reveals that he has one Cycloptic eye under his visor. (He's a Cyclops)
Project X is the only three-wheeled vehicle in Carmageddon. The rear wheel is one wide roller, covered in studs/spikes.
A Hammerhead Shark has both eyes on finlike protrusions on either side of its head. It is reportedly vicious, although only 1/3 of hammerhead shark species are considered harmful to humans.
Ad blocker interference detected!
Wikia is a free-to-use site that makes money from advertising. We have a modified experience for viewers using ad blockers

Wikia is not accessible if you've made further modifications. Remove the custom ad blocker rule(s) and the page will load as expected.