Carmageddon II driver
Herb 'E'
Monster Beatle
Info
Internal opponent number
15
Strength (1 - 5)
4
Network availability
all

---

Short name
Herb
Gender

♂

Race number
35
Status icon
Top speed
150 mph
Kerb weight
3.45 tons
0 - 60 mph in
5.3 seconds
Cost
542,000 credits
Description
"Hard to hit anything when you're mounted on all that rubber... but it's fun to try"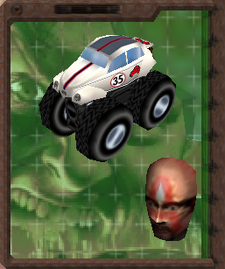 Listed as Bug Meister, and possibly driven by a member of Auto Scum.

Ad blocker interference detected!
Wikia is a free-to-use site that makes money from advertising. We have a modified experience for viewers using ad blockers

Wikia is not accessible if you've made further modifications. Remove the custom ad blocker rule(s) and the page will load as expected.