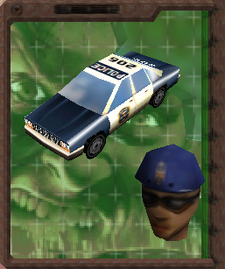 Ice-T is the stage name of American rapper Tracy Marrow. One of Ice-T's notable features is that over the course of his career he went from advocating violence against the police, to campaigning against it.
This vehicle is the Cop Car from Carmageddon II - See The Cops > Carmageddon II. As with The Cop, Ice Tea drives a Ford LTD Crown Victoria.
Ad blocker interference detected!
Wikia is a free-to-use site that makes money from advertising. We have a modified experience for viewers using ad blockers

Wikia is not accessible if you've made further modifications. Remove the custom ad blocker rule(s) and the page will load as expected.