Icing on the Quake is one of the first three levels in Carmageddon Splat Pack. It is available at Rank 99 with Mayan Mayhem and Jail Brake.
Description
Edit
Magnachem workers guard a chilling discovery on their remote ice station: warriors of a long defunct clan, frozen in ice. what caused their extinction?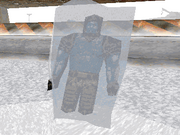 The level name is a pun on the phrase "Icing on the cake".
The MagnaChem Abandoned Ice Station features several men frozen in ice - They are in fact the player model (Ranger) from id software's Quake.

References
Edit
Ad blocker interference detected!
Wikia is a free-to-use site that makes money from advertising. We have a modified experience for viewers using ad blockers

Wikia is not accessible if you've made further modifications. Remove the custom ad blocker rule(s) and the page will load as expected.