Carmageddon II driver
Magnum Magnumsson
Abba Cab
Info
Internal opponent number
29
Strength (1 - 5)
5
Network availability
all

---

Short name
Magnum
Gender

♂

Race number
99
Status icon
Top speed
120 mph
Kerb weight
6.0 tons
0 - 60 mph in
9.9 seconds
Cost
1,750,000 credits
Description
"Pulls like a train, and quick, once it gets going. And once it's going, it's not gonna to stop."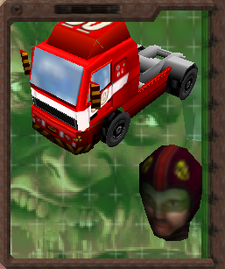 In music, the term 'abacab' refers to a basic song structure of 'verse/chorus/verse/middle eight/verse/chorus'. The Genesis album is a reference to this.
Ad blocker interference detected!
Wikia is a free-to-use site that makes money from advertising. We have a modified experience for viewers using ad blockers

Wikia is not accessible if you've made further modifications. Remove the custom ad blocker rule(s) and the page will load as expected.