Carmageddon II driver
Maurice Stalwart
Mad Morris
Info
Internal opponent number
14
Strength (1 - 5)
4
Network availability
all

---

Short name
Maurice
Gender

♂

Race number
42
Status icon
Top speed
120 mph
Kerb weight
1.6 tons
0 - 60 mph in
9.2 seconds
Cost
389,000 credits
Description
"An unlikely combination of high speed and early British design makes for a robust but unstable vehicle."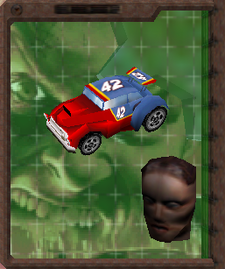 The vehicle's name and appearance (and the driver's name) are based on the Morris Minor 1000.
Major and Minor are musical keys.
'Stalwart' means 'firmly built' or 'courageous'.
Ad blocker interference detected!
Wikia is a free-to-use site that makes money from advertising. We have a modified experience for viewers using ad blockers

Wikia is not accessible if you've made further modifications. Remove the custom ad blocker rule(s) and the page will load as expected.