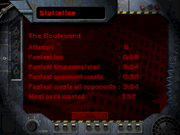 The statistics screen in Carmageddon TDR 2000 displays some of the player's stats over a level. Upon selecting a level in the choose race screen, the player must click the "info" button. Unlike the previous games, this button doesn't display the track's information.
The player doesn't need to press the "Done" button to leave this screen. Clicking or pressing Return will close it.
Statistics
Edit
Attempt (It should be "attempts")
Fastest lap
Fastest time completed
Fastest opponent waste
Fastest waste all opponents
Most peds wasted
Ad blocker interference detected!
Wikia is a free-to-use site that makes money from advertising. We have a modified experience for viewers using ad blockers

Wikia is not accessible if you've made further modifications. Remove the custom ad blocker rule(s) and the page will load as expected.