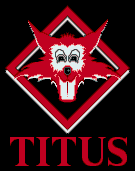 Titus Interactive, previously known as Titus Software was a French software publisher and developer, known for developing games like Crazy Cars and Virtual Chess.
Titus was founded by brothers Eric and Hervé Caen in 1985, releasing titles for the Commodore Amiga and PC. They later started releasing games for home consoles. Unfortunately, Titus holds reputation for creating some bad games.
Eventually, the company acquired BlueSky Software in 1998, and Interplay Entertainment in 2001. After some years, the financial troubles were serious, and the company was forced to close.
External links
Edit
Ad blocker interference detected!
Wikia is a free-to-use site that makes money from advertising. We have a modified experience for viewers using ad blockers

Wikia is not accessible if you've made further modifications. Remove the custom ad blocker rule(s) and the page will load as expected.