Val Hella
Talk

4
665pages on
this wiki
Carmageddon driver
Val Hella
Cleaver
Info
Internal opponent number
28
Strength (1 - 5)
2
Network availability
Never

---

Short name

(?)

Val
Race number
21
Top speed
220 mph
Kerb weight
1.3 tons
0 - 60 mph in
5.5 seconds
Stealworthy

No

Description
"She's the self-crowned queen of the race scene, and her chariot is aptly equipped with wheel mounted blades."
Val Hella has been confirmed to return in the Cleaver.[1]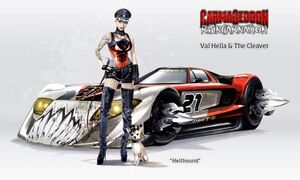 Valhalla is the food hall of the afterlife in Norse mythology. Hell is a less pleasant place to end up.
Val is short for Valerie.
Val Hella wears an Iron Cross around her neck.
Cleaver looks like it was a large sports coupé such as the Marcos LM or Dodge Viper, once upon a time.
Cleaver appears on some versions of the cover to Carmageddon II, despite not appearing in the game.
The version of Cleaver on the Carmageddon II cover, and in the intro movie to the original game, is a very different vehicle to the in-game model. Among other changes, the front lights and grille are positioned differently, the side has exhaust vents and the cabin is mounted deeper into the bodywork. This version of Cleaver appears to be based upon a 1930s luxury car such as a Mercedes-Benz 500K or Bugatti Type 55.
For Reincarnation, Val has gained a tiny Chihuahua called HellHound. It wears a Nazi cap and armband.
The handheld trailer for Carmageddon shows the Cleaver drivable, along with the Countslash, Project X, the Electric Blue, the Fearari F666 and the Stiffshifter.
References
Edit